No matter who you are, or what form the abuse is taking we know that it is extremely difficult to come forward and talk about what's happening.
If you do decide you would like to speak to the police you can call 101.
If you, or someone you know, is in danger, or in an emergency, always call 999.
Police call handlers are experienced in supporting people and understand how difficult these situations can be. You can also contact the police online by completing a secure Report a Crime or Incident Form.
Even if you decide not to speak to the police about what has been happening there are many organisations ready and waiting to help.
It may seem daunting, and you may not know what to expect. Here is a brief introduction to some of the people and organisations you may come into contact with:
Dawn works for Next Link, a domestic abuse support service. She explains how to get in touch and the support they can offer.
If you need to leave your home because of domestic abuse you may be referred to a safe house. Dawn talks about what you expect if you stay in one of their houses.
Alecto is a Neighbourhood Sergeant for Avon and Somerset Police. She explains what happens when you report domestic abuse to the Police.
Mike is Avon and Somerset Police Force lead for improving services for male victims of rape and sexual abuse. He said: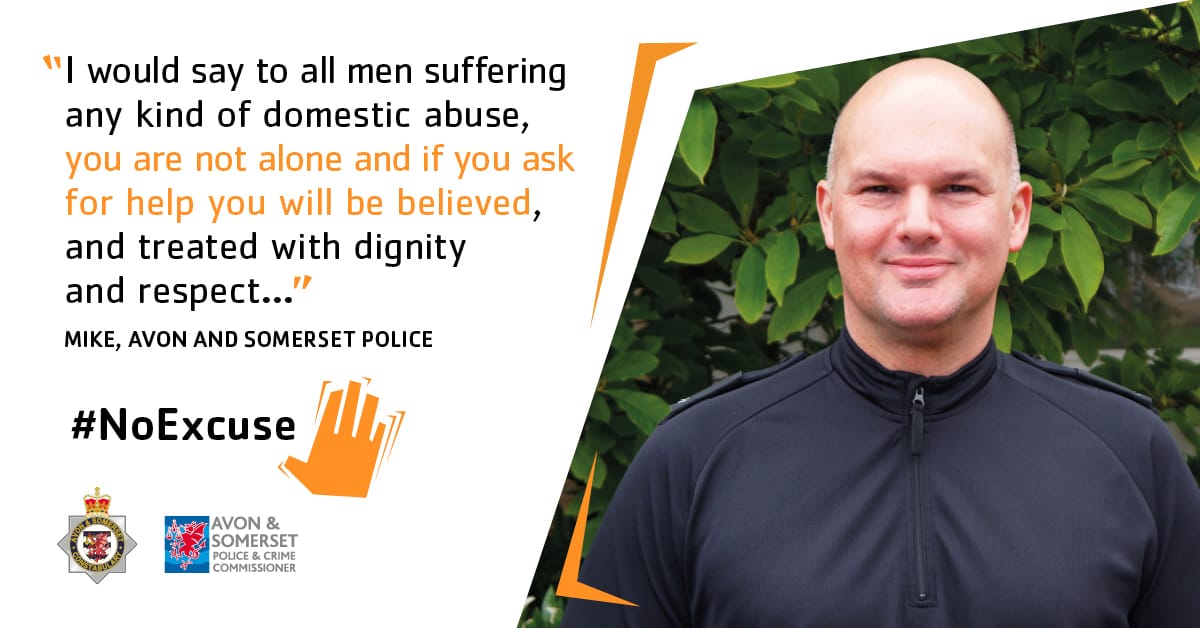 "We know that many more people are living with domestic abuse than come forward to ask for help and statistically men are even less likely that women to report abuse within a relationship. There are many reasons for this, from fear of not being believed to being worried that speaking up means that they may lose contact with their children. At the heart of it through is the perception that domestic abuse, whether they are in a same sex or heterosexual relationship, is not something that happens to men. The reality is that men can be victims of any type of abuse, whether it's physical, emotional or sexual however because of the deep-seated perception that it just doesn't happen many men fear that they will be judged not just by us, but by their friends, family and society in general. We want to change that perception. Any man who approaches us to report any kind of abuse will be treated with respect and dignity, and they will be believed. Of course you don't have to speak to us if you, there are many organisations out there that support victims of domestic abuse, for example Next Link, a domestic abuse support service has just opened a safe house specifically for men. One organisation dedicated to supporting men affected by domestic abuse is ManKind. It offers an anonymous, confidential helpline for men suffering from domestic violence or domestic abuse by their current or former wife or partner (including same-sex partner). They can also advise on emergency housing, financial and legal matters as well as offering emotional support. You can find out more about all the support available in your area here:
Jo and Janine are Independent Domestic Violence Advisers or IDVAs. They offer one to one support to people at risk of domestic violence.
Natalie is a MARAC representative. MARAC stands for Multi Agency Risk Assessment Conference. It's a meeting where anyone involved in your care can discuss how best to support you and your family.
Samantha works for Lighthouse Victim Care. She talks about why you would be put in touch with them and the help they can offer.
As you begin to talk to people you may hear some unfamiliar terms being used. Check out our Jargon Buster for some of terms and phrases you are likely to hear.